Bus Safety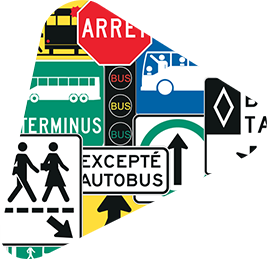 Your safety is paramount to the carrier members of the Federation. Every day, concrete actions are taken to ensure the safety of passengers regardless of the type of bus transportation used.
The bus driver is the first to ensure his/her vehicle is in good working order. He/she is required to make a visual inspection inside and outside the vehicle and report any anomalies to management, which shall resolve the issue promptly.
Carriers have an obligation to maintain their vehicles properly. While regulations dictate minimum check criteria, most carriers have the mechanical condition of their motorcoaches and buses inspected to higher standards. Vehicle inspection and maintenance requires thoroughness and control, and the bus transportation company staff monitors this very carefully.
In the last few years, the Federation and its members have worked closely with the various government partners to implement new safety rules to remain vigilant and consider road safety as a constantly evolving issue.
To look into regulatory obligations as regards mechanical maintenance, please visit the Société d'assurance automobile du Québec(SAAQ) Website.
Seatbelt
Transport Canada currently applies 37 federal safety standards in designing and building school buses made or imported in Canada. These standards address safety features such as braking systems, lighting, emergency exits, seat strength/padding, and tires.
The current federal standards require high back seats made from energy-absorbing flexible material to keep occupants in their spot in case of an accident. The data from all types of school bus collisions demonstrate that the current school bus design provides a high level of occupant protection.
Based on analyses of its accident studies, Transport Canada has determined that seatbelts could in fact harm children in school buses. For instance, school bus collision tests led by the Department have revealed that occupants wearing a lap belt would be more likely to sustain serious head and neck injuries than occupants not wearing a seatbelt in head-on collisions.
The Department also considers that the lap belt-shoulder belt combination could cause problems since they cannot be adjusted to adequately protect young children and any loosening could cause injury. Furthermore, installing these belts would require hard seats, which could injure an unrestrained child.
To ensure that safety rules provide a high level of protection to school bus occupants, Transport Canada continually monitors school bus accident data and regularly reviews its standards to consider new safety issues.
Source: Transport Canada
Pre-Departure Inspection
The SAAQ has developed a guide updating on these regulations and the components targeted by the pre-departure inspection. This guide suggests a preventive approach allowing drivers to identify certain minor and major malfunctions on a vehicle and inform the owner or operator.
Revenir aux onglets
School Bus Transportation

Child Safety is a Shared Responsibility
To keep a great road safety record, we all need to do our share to minimize the risks of tragic accidents.
Carriers
Drivers
Parents
Teachers
School Boards
Road Users
Carriers
School bus service providers that are Federation members are passenger transportation professionals. They are committed to the safety of passengers travelling in their vehicles. This is why they do everything in their power to:
Comply with the laws and regulations affecting Quebec school bus transportation;
Meet the requirements and conditions stipulated in the transportation contracts binding them to each school board or educational institution they are serving;
Ensure that their drivers are licensed and competent to drive a school vehicle, comply with the regulatory requirements and are in compliance with the Highway Safety Code;
Promote the quality and safety of their businesses' operations.
Drivers
As the primary stakeholders with the clients served, school bus drivers must be licensed and competent to drive a school vehicle.
Specifically, school bus drivers must:
Have a Class 2 driver's licence. The conditions for issuing a Class 2 licence are prescribed by regulations and available at the Quebec Motor Vehicle Bureau (SAAQ). To obtain a Class 2 license quickly, you may undergo 20 training hours in a school transportation company approved by the SAAQ.
Undergo or have undergone 15 training hours provided by authorized transportation training centres in order to obtain a mandatory certificate for school bus drivers. This certificate entitles them to drive a school bus or minibus with passengers under 18 years old.
Prove that they have no criminal record associated with the school bus driver occupation.
Beyond these basic regulatory requirements, to drive a school bus, it is imperative to:
Love children;
Give priority to passenger safety;
Have a passion for driving road vehicles;
Know the laws and regulations pertaining to driving this type of vehicle and, more specifically, the Highway Safety Code;
Want to contribute to young people's future and be involved in the community.
Parents
As the people most responsible for their children's safety, parents play an essential part in ensuring their safety, whether inside or outside the school bus. Therefore, they must be reminded regularly of the basic safety rules.
Safety rules for schoolchildren:
I get to the bus stop ahead of time to avoid running.
I wait for the bus in line without shoving others.
I wait until the bus is at a standstill before moving closer.
I get in the bus in line and I hold on to the handrail.
I go over to my seat and sit down immediately.
I do not put items in the aisle.
I do not distract the driver.
I leave my items in my bag.
I keep my arms and head inside the bus at all times.
I remain seated during the entire trip until the bus comes to a complete stop.
I walk a safe distance from the bus as soon as I get off and I keep away from the wheels.
I count ten steps when I get off the bus before passing in front of it.
I make sure that the bus driver has seen me before passing in front of the bus.
I look at my left, my right, then my left again before crossing the road.
I wait for the driver's instructions when I drop something under the bus. If it is not possible to talk to the driver, I wait until the bus has driven away before picking up the object.
I never go behind the school bus.
School Boards
While the funding of morning/afternoon school bus transportation is the concern of the Department of Education, Recreation and Sports, school boards, through their transportation department, are in charge of planning school bus transportation in their jurisdiction.
School boards determine, among others, the conditions for accessing school transportation, the routes, the buses' departure and arrival times, the stops for getting on/off buses, and the number of students in a school bus.
School boards also institute business rules and policies related to school transportation, and determine the conditions in which school bus service providers perform their contracts. These measures, which often affect the safety of schoolchildren, are generally available on the Website of each school board.
Road Users
School bus service providers and their drivers alone cannot guarantee the safety of schoolchildren on board. Road user collaboration is crucial to keep an exceptional safety record.
We must know and comply with road signs, more specifically in danger zones, such as:
The activated school bus stop signal
The advance sign for school zones and school crossings
The beginning of a school zone
The presence of a school crossing
To validate your knowledge, please visit the SAAQ Website.
Amber lights… prepare to stop
Road users must also know that school bus drivers need to signal in advance their intention to stop their vehicle to pick up or drop off schoolchildren. The purpose of this measure is to slow traffic down in front and at the back of school buses to prevent abrupt braking or accelerating manoeuvres.
Two steps to keep in mind:
Prepare to stop when a school bus activates all four flashing amber lights or, alternatively, its hazard lights.
Completely stop your vehicle more than five meters from the bus when the latter is activating its flashing red lights and stop sign.
Do not forget
Crossing or passing a school bus with activated flashing red lights may earn you a fine of $200-$300 and the loss of 9 demerit points;
This stop is not mandatory when crossing a school bus if the driving surface is separated by a median strip.
School bus transportation: a routine that could save lives
Revenir aux onglets