Children traveling alone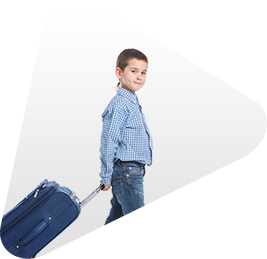 You child must travel alone from one Quebec region to another? Why not take advantage of the Program for Children Travelling Alone, implemented by the Bus Carriers Federation and its members that are intercity bus service providers, for safe travelling?
Who is eligible for the Program for Children Travelling Alone?
The program is designed for children 8 to 12 years old inclusively travelling alone in the intercity public transport network.
Children under 8 years of age may not travel alone and must be accompanied by a person of at least 14 years of age.
How can I avail myself of the Program for children travelling alone?
Simply make a request to your intercity carrier or to an agent at the terminal's ticket counter.
How does the Program for Children Travelling Alone work?
The following regulations are in place to ensure that the program runs smoothly:
Upon ticket purchase prior to departure, the person responsible for the child must fill in and sign the form in the presence of the ticket agent.
When the child boards, the driver checks with the person responsible for the child to make sure the name of the person who will meet the child upon arrival at destination is correctly identified on the form.
Upon arrival the driver checks the identity of the person meeting the child and has this person sign the form.
If no one comes to meet the child, the terminal director phones the person who is named on the form to find out why he/she is absent or delayed. If the director feels it is necessary, the police will be called.
Children travelling alone are never left with unidentified persons, nor are they left alone in the terminal.